Marquee Heaters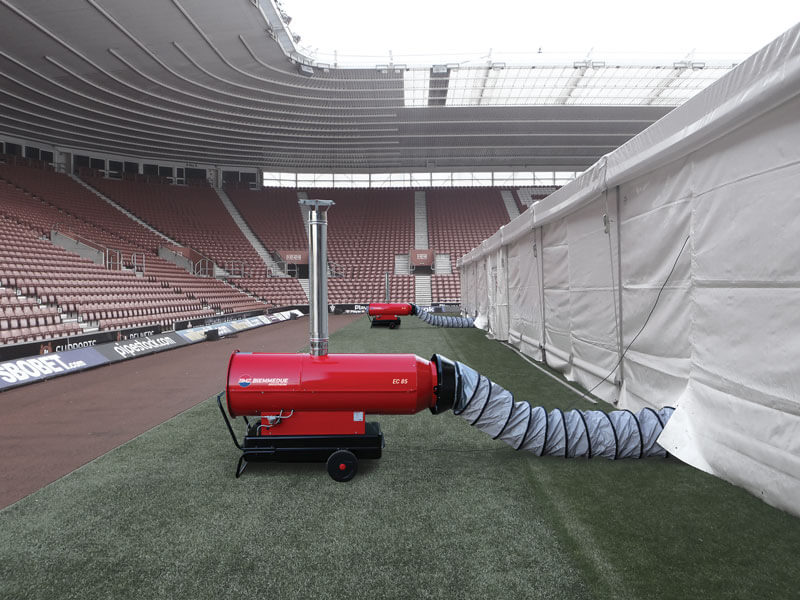 Indirect fired diesel heaters are perfect marquee heaters. We have marquee heaters available in a range of sizes, from some of the best brands in the industry - including Master, Arcotherm and Thermobile. Whether you have a marquee for a family party, or you're in the events industry and have marquees for large events, we have the ideal heater for your needs.
These heaters are designed to be placed outside the marquee. As they burn fuel, the fumes produced are exhaused outside via a flue, while the warm air is distributed into into the marquee via ducting. This ensures that only safe and clean warm air is used to heat the marquee. This is vital for the health and well-being of guests in such an enclosed space, as well as for health and safety credentials at a large organised event.
Our indirect fired marquee heaters are safe, reliable and robust. They are capable of heating your marquee to a comfortable temperature quickly and safely. We have these heaters available on their own and we also have a range of marquee heater packages available, which give you everything you need for heating a marquee - including the flue kit and ducting - with free delivery!
For more information and advice on our range of marquee heaters and which unit would be best for your marquee, simply contact our heater experts via online live chat or telephone.