From the 12th April 2021, all restaurants, pubs and bars will be allowed to install an open-sided marquee or gazebo outdoors. While planning permission was previously required for these structures, the rule change now means hospitality venues can erect a marquee or gazebo and serve customers outside on terraces and even car parks. The Government expects this will boost trade and bring much-wanted revenue for the hospitality industry.
However, Spring (and even Summer!) in the UK offers no good weather guarantee and it's likely you'll still need some form of heating. So, what are your options to keep customers warm and comfortable? We've listed below some great choices for your outdoor space, marquee or no marquee.


Open-Sized Marquee/Gazebo Heaters
If you're one of the lucky ones who has managed to get hold of a marquee/gazebo, you'll still likely need some form of heat. We've picked some safe and suitable options for open-sided marquees and gazebos.

Indirect Heaters
Pros: Covers a large area
Cons: Less energy-efficient, more expensive initial outlay
Indirect heaters are suited to larger outdoor areas as they provide large volumes of clean, fume-free warm air. Warm air can be ducted too, meaning you can place the heater away from your customers and supply the air via flexible ducting.
Our Pick: Choose a heater such as the Master BV11 Indirect Space heater, which can be rolled to any location you need it and easily resituated if needs be. The downside of these types of heaters are that Indirect-fired heat involves multiple working parts, making it a little less efficient compared to direct-fired heaters.
Direct Gas Heaters
Pros: Very cost-effective, great for larger areas
Cons: Only suitable to very well-ventilated areas
Direct diesel space heaters are a highly cost-effective form of heating. Powerful and efficient, these heaters are great at providing large volumes of heat quickly and effectively. Because they pump out heat directly, there is no loss of heat, meaning that 100% of the combustion gases go to heat the air. Watch out for placement though - They need to be situated carefully to mitigate the release of any potential fumes.
Our Pick: Heaters such as the Master BLP 33M are a great choice if costs are on your mind. Blower or Space heaters require gas bottles and will heat large areas very quickly. They can be purchased or hired for very reasonable prices.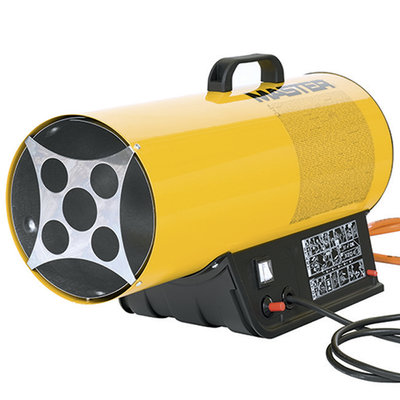 Electric Fan Heaters
Pros: Easy to use, compact, cheap to buy, no fuel required
Cons: Less energy-efficient, lower heat capacity
Electric fan heaters are easy to use, cheap to buy and produce completely clean and safe heat. Unlike other heaters, they are only available in up to 3kW capacity with standard 240v mains power supply so are not suitable if you need a heater with a large output. Larger industrial electric fan heaters need 3 phase (400v) power supply, which many pubs, bars, restaurants and bars may not have.
Our Pick: The Elite EHFH Industrial Electric Fan Heater is portable and easy to use. These heaters are a great choice for instant, no-fuss heat for outdoor areas.
General Outdoor Heaters
Any restauranteur or pub/ bar owner with an outdoor space will likely already be familiar with the benefits of increased capacity from using an outdoor heater. Because this is not a new market, there are tons of great options to choose from. Trouble choosing? Here are some great options to select from.


Gas Patio Heater
Pros: Greater heat output, stylish options
Cons: Less energy-efficient, more costly overall
Gas patio heaters have the capacity to pump out a lot of heat quickly and safely, making them a fantastic option for commercial and residential decks and patios. Unlike other heater options, they work straight away, creating immediate heat for patrons. They also come in a range of attractive options that can easily blend in within a commercial outdoor area.
Our Pick: We like the Kratki Real Flame Heaters, these heaters are not only powerful but are also look great too and you can even use a remote control to turn on/turn down the heat. Looking for something smaller? These Srirocco Table Top 4kw heaters can be placed on top of tables and their anti-tilt function means they are ultra-safe. Their amber glow also creates a warm and welcoming ambiance, making them a great choice for socially distanced tables.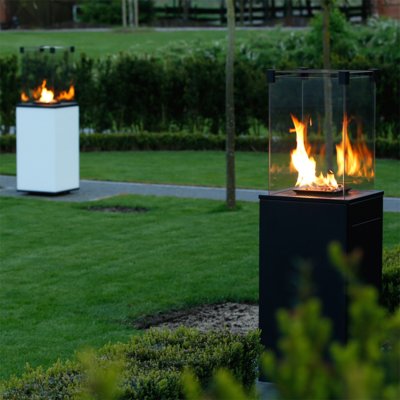 Infrared Patio Heater
Pros: Stylish and discreet, works instantly, cost-effective, no fuel needed
Cons: Covers smaller area, needs to be positioned carefully
Radiant heat warms people and objects directly rather than the air itself, so it's an incredibly efficient way to heat outdoor spaces. They also produce heat instantly, so your customers don't have to sit out in the cold waiting to feel the benefits.
Our Pick: We like the Infrared Apollo Patio Heater which offers 110° Heat Coverage and even has a PIR, so it only switches on when customers are in sight, making it perfect for outdoor areas that are only used intermittently.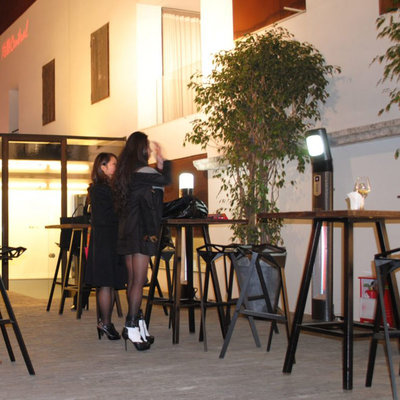 Under Table Infrared Heater
Pros: Stylish options, hidden from view
Cons: Smaller heating area
Under table heaters come in both free-standing and table-integrated options. They offer a highly efficient way to keep customers warm where they drink/eat. Placed beneath the table, they are discreet and highly portable, meaning they can be moved to wherever they are most needed.
Our Pick: The Mensa Vireoo is the perfect under table heater thanks to its motion sensor which activates the heater when someone sits down or moves at the table, saving energy. Its integrated tabletop comes in a range of colours and can also be removed so it can function as a freestanding heater too.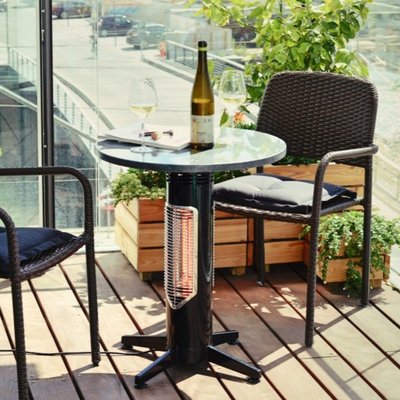 Whatever you choose, make sure to take into consideration the size of the space that is being heated as well as the frequency of use. Every outdoor space is different and will require a different approach. Thankfully, there is a great range of products to choose from, making it highly likely you'll find something that fits your needs perfectly.
Need more help? No problem. Our experienced and knowledgeable team can help you decide on the right patio heater for your hospitality venue. Contact them today to find out more.